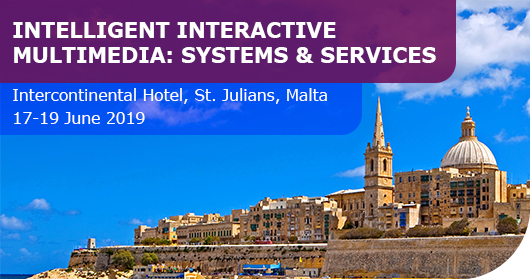 12th International KES Conference
---
Welcome!
IIMSS-19 is an international scientific symposium for research in the fields of intelligent interactive multimedia systems and services. The aim of the conference was to provide an internationally respected forum for scientific research in the technologies and applications of intelligent and interactive multimedia systems and services.
At a time when computers are more widespread than ever and computer users range from highly qualified scientists to non-computer expert professionals, Intelligent Interactive Systems are becoming a necessity in modern computer systems. The solution of "one-fits-all" is no longer applicable to wide ranges of users of various backgrounds and needs. Therefore one important goal of many intelligent interactive systems is dynamic personalization and adaptivity to users. Multimedia Systems refer to the coordinated storage, processing, transmission and retrieval of multiple forms of information, such as audio, image, video, animation, graphics, and text. The growth rate of multimedia services has become explosive, as technological progress matches consumer needs for content.
Proceedings
The Full Papers conference proceedings will be published by Springer as book chapters in a volume of the KES Smart Innovation Systems and Technologies series, submitted for indexing in Scopus and Thomson-Reuters Conference Proceedings Citation Index (CPCI) and the Web of Science. (The Short Papers and Abstracts conference proceedings will be published online and will not appear in the Springer volume).
Smart Digital Futures
The conference took place as part of the Smart Digital Futures 2019 multi-theme conference which groups AMSTA-19, IDT-19, IIMSS-19, InMed-19, SEEL-19 and STS-19 in one venue.
The event took place on the island of Malta.
The winner of the Best Paper Award for IIMSS was Sitting Postures for Autonomous Drving Secondary Actvities,, presented by MBA Eng.Sibashis Parida, other authors Eng. Sai Mallavarapu, Prof. Dr. Sylvester Abanteriba, Dr. Matthias Franz, Eng. Wolfgang Gruener.
---